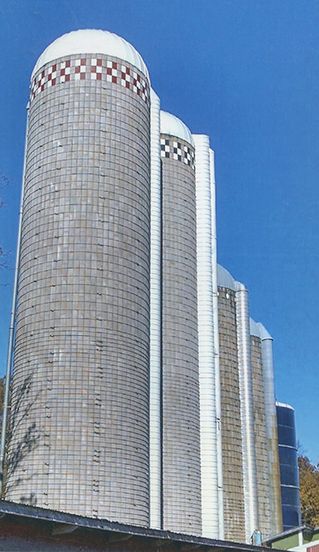 Silo - New & Rebuilt
On our new and rebuilt silo projects we use the heaviest, best steel on the market.  We have the best staves, 3" solid & flat. We use specifically designed cement & chemical mixes for the finest, thickest, strongest & smoothest finish in the industry.

We use some of the tallest doors on the market, 30" all green treated wood, self storing doors. Wood doors are superior to steel because your unloader can't catch them and bend them, they won't rust away & our doors are set in for a better seal.

A new structure is always an option, but most of our structures we build today are rebuilt. We take down old silos for their steel, reuse the rings, ladder & cage, steel pipe, doors, frames & spreaders.  Then we use new staves, chute, roof, gooseneck, cage and finally the heaviest, smoothest plaster to seal your silo up for many years at a huge savings to you over the price of a new structure.  Add in a rebuilt or used unloader, you're still less than a new structure.